Back to all news
04.05.2020
News
Credits Mobile Wallet Release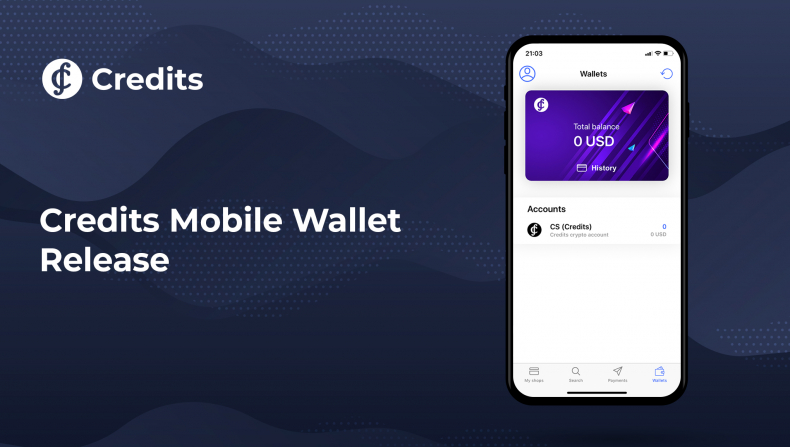 The Credits team is proud to announce the release of the first version of the Mobile Wallet. As the underlying goal of any blockchain project, adoption is very important and with the release of the first version of the Credits Mobile Wallet, the project made the first step to reach global adoption in the Banking, Loyalty and Crypto industries.
Credits wallet
Neobank for easy purchases with benefits by using the Credits mobile app. Credits team delivers a product that offers consumers an opportunity to make purchases and receive the most beneficial cashbacks in CS coins. In the meantime, the Credits team keeps innovating to add more features to the mobile wallet. The user will experience discounts and automatically accumulate bonus points.
The main product features of the application are:
Bank cards Mastercard

Cashbacks 

Bank transfers

Cryptocurrencies like CS, ETH, BTC and Stablecoins will be added gradually
May 4 Release
On May 4, 2020 we release the first basic version which has the following functionality:
Cryptocurrency direction
Account registration via SMS and Email. All account actions

Opening an account on the Credits blockchain 

Moving CS to your account

In-app storage of funds

CS transfers: internal off-chain transfers and external on-chain

Backend: Master Accounts

History of Internal and External transactions

Purchases of CS cryptocurrency through a third-party provider
Loyalty Card Catalog
Catalog of digital loyalty cards

Add and store new digital loyalty cards

Join Loyalty Programs

Bar-code 

Add any card you keep in your wallet
Q2 Release
Functionalities in development which are planned to be released in Q2, 2020:
KYC procedure: Personal data, documents, Photo-ID verification

Credits Tokens

Transfers by phone number and email

Adding more languages

Cashback in CS. Bonus program for registration and use of app

Ability to store and transfer BTC, ETH

Opportunity to buy BTC, ETH at competitive prices

User-friendly CS purchase integration

Referral programs 
Q3-Q4 Release
Ability to make banking operations with Visa / Mastercard Debit and Prepaid 

More award programs in CS, USD, EUR 

IBAN account

Multicurrency

Fair Interbank Exchange Rates

SWIFT / SEPA transfers
The Mobile Wallet is under review by Appstore and GooglePlay. Now it is available for download via these links: 
iOS - https://testflight.apple.com/join/3aok5rNi
Android - https://play.google.com/apps/testing/com.credits.Wallet
What is a Loyalty Card?
Bonus cards of your favorite stores, similar to traditional plastic cards. The Credits app allows you to take a photo of the loyalty card and convert it to digital form, which eliminates the need to store plastic cards.
Example of Usage
How to add a digital loyalty card to my favorite store?
Visit the Search Page

This page provides an extensive list of stores available in your area. Available regions: United Kingdom, Netherlands, Russia

Choose one of the stores, add your loyalty card
There are 2 options on how to add the card:
Add an existing card by selecting in the catalog, enter the card number, take a photo or upload the front and back of your card

Add a new card not represented in the catalog, make a photo of the card and it will appear in My Stores section
Credits team is very keen to continue the development of the Credits Mobile Wallet to incorporate more features and to make it your favorite app for everyday use.